Prayer Wall
Welcome to Heart of God International's Prayer Wall. You are invited to share your prayer requests and be assured that friends, both old and new, will pray for you. Please note that all posts are subject to moderation and may not appear on the Wall immediately after posting. This is for your safety and for the integrity of this ministry. If you have any questions, please don't hesitate to contact us.
The following diagram provides a basic explanation explaining what is shown on the Prayer Wall and some reminders you'll need for posting your prayer requests. The actual form is below the picture.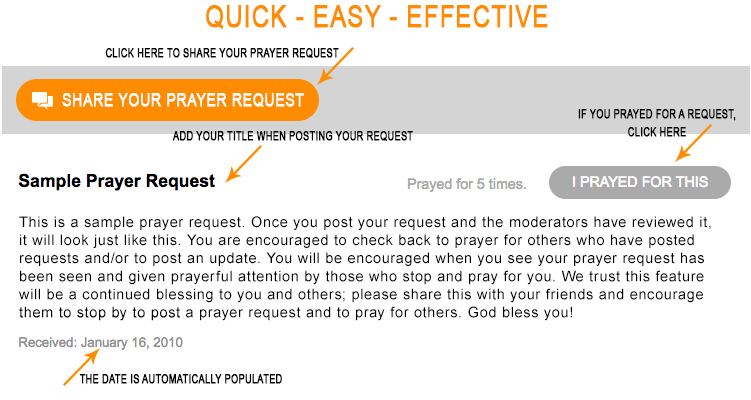 You may add your prayer request to our prayer wall using the form below. Once your prayer request is received, we will share it according to your instructions. Feel free to submit as many prayer requests as you like!
Please pray………….
**That God might help me & team members to reach out more Muslims & Hindus for Christ and establish more Churches inside the Muslim & Hindu communities by His grace & mercy. ** For God's provision to continue carry His work that He has entrusted upon me. There is need for monthly family allowances for few Gospel workers, Health care ministries, Care taker, travelling expenses for Evangelism works, children ministry etc., etc. ** That God might add more people at our weekly Friday & Sunday worship services ** That I and my family might totally trust and depend on Him and His divine provision for all our needs. Pray for God's help to pay for Noorie's tuition fees which is nearly RS. 3000.00 per month.
Received: July 24, 2017
This is a test but we could always use prayer! 🙂
Received: June 8, 2017
Please pray for the people in London who have been impacted by the latest terrorist attack. Also, pray that God would give our national leaders wisdom to know how best to protect our country. Pray also for the peace of Jerusalem.
Received: June 5, 2017

A brief statement explaining the general scope of HGIM.
HGIM's history from its beginning in 2003 to date.
An overview of HGIM's Great Commission mission statement.
The purpose of HGIM based on the Great Commission.
Heart of God International Ministries Statement of Beliefs.
You are invited to share prayer needs and pray for one another.
Answers to questions you may have about HGIM and the Network.
List of direct links to additional HGIM ministry sites and publications.